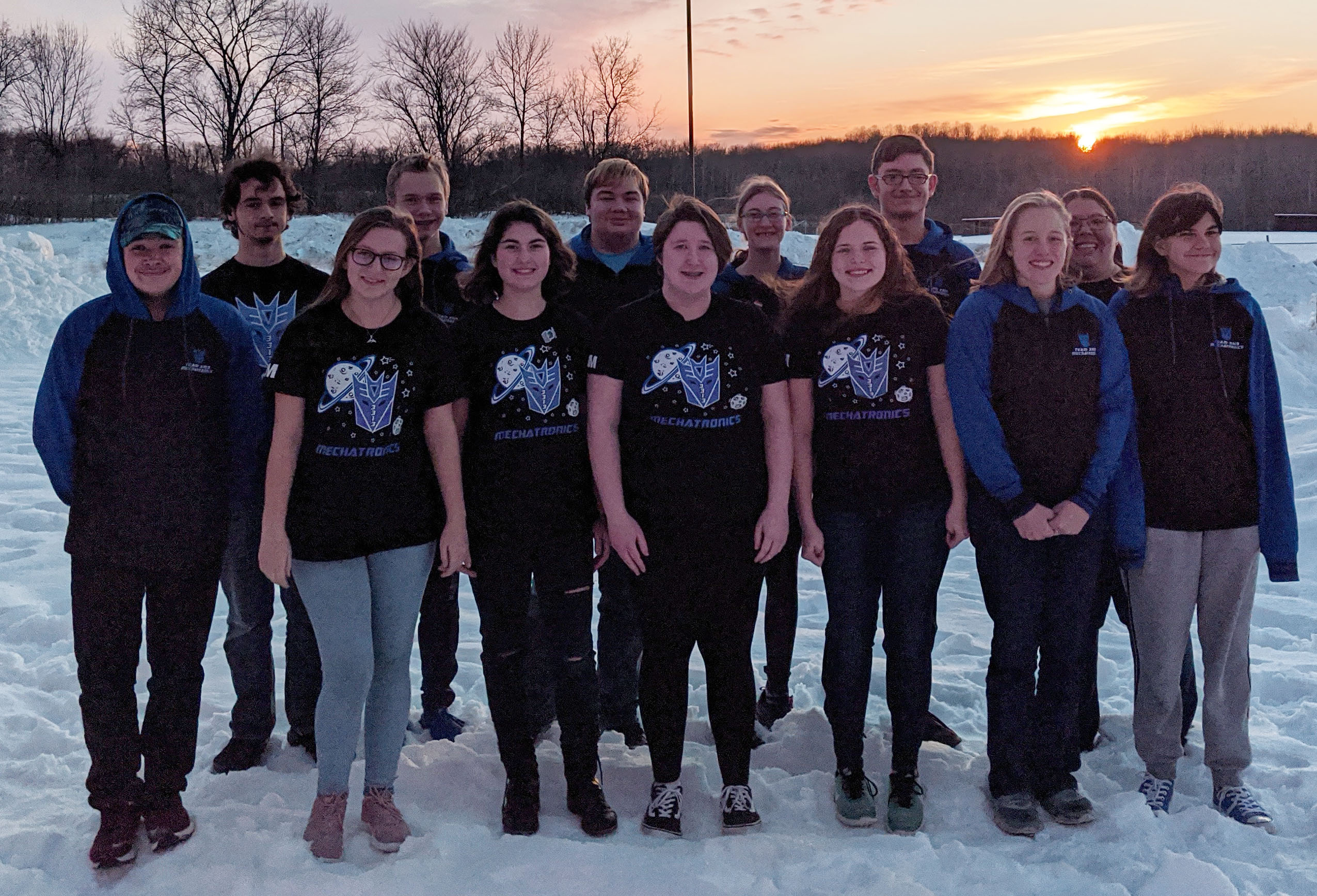 Mechatronics Team 3313 is a group of students from Alexandria Area High School of Alexandria MN. We work as a team to design, build, and program a robot to complete different challenges. We work with peers within our community, both young and old, who otherwise may not know of the excitement of STEM*.
We spend the first few months of the school year showing off our skills by walking in our homecoming parade, talking to students in our district about what we do, and finding local businesses to sponsor us. We wouldn't be able to do what we do without the help of our community!
Kickoff is the first week of the new year. We get together to watch a live stream of the FIRST Kickoff. Excitement is high while we're waiting to hear the official game title and rules. As soon as that information is given, our time crunch begins. Our build team started brainstorming ways to make our robot capable of doing as many of the challenges as possible. The programming team gets to work on updating all of their code to be up to par with the code required by FIRST. Our PR team starts compiling information on how to write our yearly essay, called the Chairman's Essay.
Our build team handles the designing of and assembling the robot to be a functional expression of the challenges presented by FIRST. From blueprints, to construction, to little tweaks to keep our bot in fighting shape, they get our wheels on the ground.
Our programming team brings the robot to life. With the lines of code they provide our machine is able to seamlessly complete the challenges of the game. They make sure the robot moves without hitting walls, or causing damage, while also getting our challenges done.
The drive team are the movers and shakers of the team. They spend the competitions piloting our bot and bringing our team to victory. They, along with the "Human Players" are the only part of our team allowed on the field during a match. Our drive team is mostly compiled of both our build and programming teams, so when we're in the middle of the game every one on the field knows the complete inter workings of our robot.
Last but not least, our PR team makes sure that our community sees that their time and interest are worth it. They keep them updated on the goings on of the competition and report on our progress along the way. While everyone else is building and programming our robot, the PR team is finding new ways to involve ourselves in the community. Check out our social media pages through the Contact tab at the top of the page!
We are Mechatronics. We are Team 3313
*[Science, Technology, Engineering, and Math.]